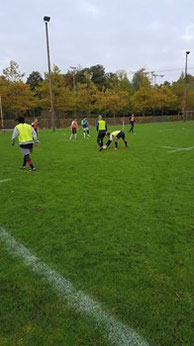 Last week, we had the honour of welcoming our friends from Touch Berlin to Hamburg. About 30 os us met at Hamburg's hallowed rugby turf for a day of touch rugby fun. 
The day started with a mini-tournament between three teams. After much heated competition, the creatively named "Team A" narrowly edged out equally creative "Team B" as winners. "Team C" participated bravely and finished with a respectable and hard-earned third place.
The day finished with Hamburg facing off against Berlin. Berlin took a dominating lead 5-1 into the break, but the tide turned in the second half, with Hamburg mounting an incredible comeback. This was topped off by JB's amazing run through the entire Berlin defensive line.
Thanks for coming Berlin, and we will see you again soon!
---